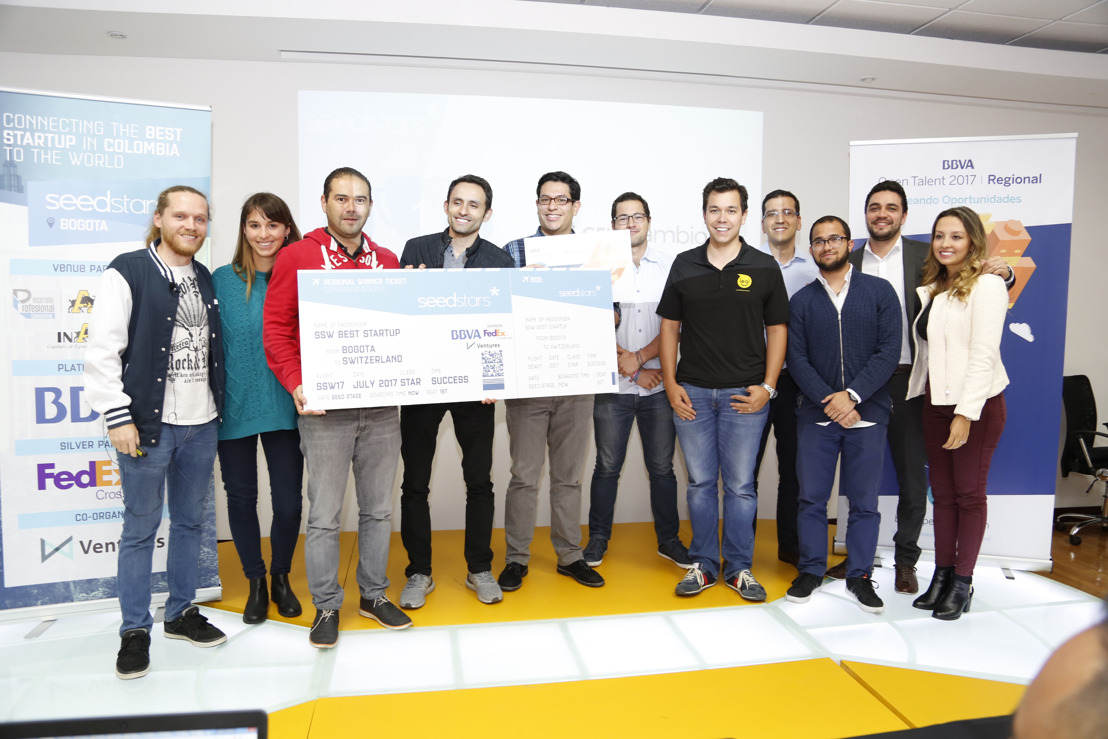 Celucambio.com nombrada mejor startup de Colombia en Seedstars Bogotá
El 27 de julio durante Seedstars Bogotá, Celucambio.com ganó la edición para Colombia de Seedstars World y representará al país en el Seedstars Summit en Suiza compitiendo por hasta 1 millón de dólares en capital de inversión. Además Mesfix fue el ganador de BBVA Open Talent Bogotá.
Sunday, July 30, 2017 — Bogotá, Colombia - Seedstars World, la competencia global de startups en mercados emergentes realizó su edición para Colombia en Seedstars Bogotá. El evento se llevó a cabo el jueves 28 de julio en Coworking Uniandinos donde 14 startups seleccionadas realizarón su pitch frente a un panel de jurados.
El ganador local, Celucambio.com, una plataforma que permite cambiar, comprar o vender smartphones usados, fue seleccionada como la mejor startup en Colombia por su solución. "Haber disfrutado de este evento con todo el ecosistema de emprendimiento en Colombia fue algo único y el haber ganado fue algo inesperado pero me siento muy contento", explica Juan Camilo Salazar de Celucambio.com. Como parte del premio, Celucambio.com participará en el Seedstars Summit, que tendrá lugar en Suiza en abril 2018, un programa de entrenamiento de una semana con la oportunidad de conocer a los otros 80 ganadores, así como inversionistas y mentores de todas partes del mundo. Asimismo, como es tradición, el último día del Summit será dedicado a hacer los pitches frente a una audiencia de más de 1000 asistentes, con la posibilidad de ganar hasta USD 1 millón en capital de inversión y premios.
ESCALA Educación, una empresa con sentido social que ofrece a los empleados de sus aliados empresariales planes de ahorro para facilitar el acceso a educación superior, obtuvo el segundo lugar y Leal, una plataforma digital para identificar, comprometer y recompensar a sus clientes más valiosos, quedó en la tercera posición. Las otras startups participantes fueron Fitpal, Rapigo, HomeParte, Biocredit, LaVaquinha, Incluirtec, Notiplac, Filapp, SurBTC, Prestarme.la y Mesfix (Solo BBVA Open Talent).
14 startups hicieron los pitches frente jurados, incluyendo Daniela Calleja - Principal de Mountain Nazca, Pedro Buitrago - Business Development VP en BBVA, Federico Lara - Chief Technologist en FedEx CrossBorder, Anabel Roitz - especialista en early stage startups en Penza Perception Lab, Marcela Zetina - Head of Innovation and Entrepreneurship en BBVA y Juliane Butty Regional Manager Latin America & Caribbean en Seedstars.
Además del premio de Seedstars, Mesfix (Ganador de Seedstars Bogotá 2016) ganó Open Talent Bogotá Prize y fue seleccionado como mejor FinTech startup de Bogotá y recibió 1.000 EUR de premio. El viernes 28 competió con los finalistas de otras ciudades de Colombia para saber quién competirá en la gran final Regional (19-20 septiembre, Ciudad de México) por un premio de 30.000 €, una semana de inmersión en las oficinas centrales de BBVA en Madrid, y la participación en el BBVA Global Summit.
Seedstars Colombia también contó con Edwin Zácipa, de Colombia Fintech, quien presentó el panel: "Cómo las grandes corporaciones pueden trabajar con las fintech?" en el que también participaron Federico Lara y Sergio Zúñiga - Head of Innovation & Entrepreneurship. El evento fue posible gracias al soporte de socios locales de Seedstars World: Corporación Ventures, BBVA, Fedex Cross Borders y Uniandinos.
El evento que atrajo a más de 160 startups aplicantes se realizó gracias al soporte de Wayra, Videomotora, Finnovista, Colombia Fintech, Tierra Firme, Connect, ProBogota, Hypercubus, socialab, innpulsacolombia, Mountain Nazca, Endeavor Colombia, Andi Futuro, HubBog, Universidad Nacional de Colombia, Agora Partnerships y Emprendeandes entre otros.
Continuando con la gira por mercados emergentes, el siguiente destino de Seedstars World en Latinoamérica es Río de Janeiro el 25 de agosto. Seedstars World está en la búsqueda de startups que puedan resolver desafíos regionales y/o desarrollar productos rentables para el mercado global.