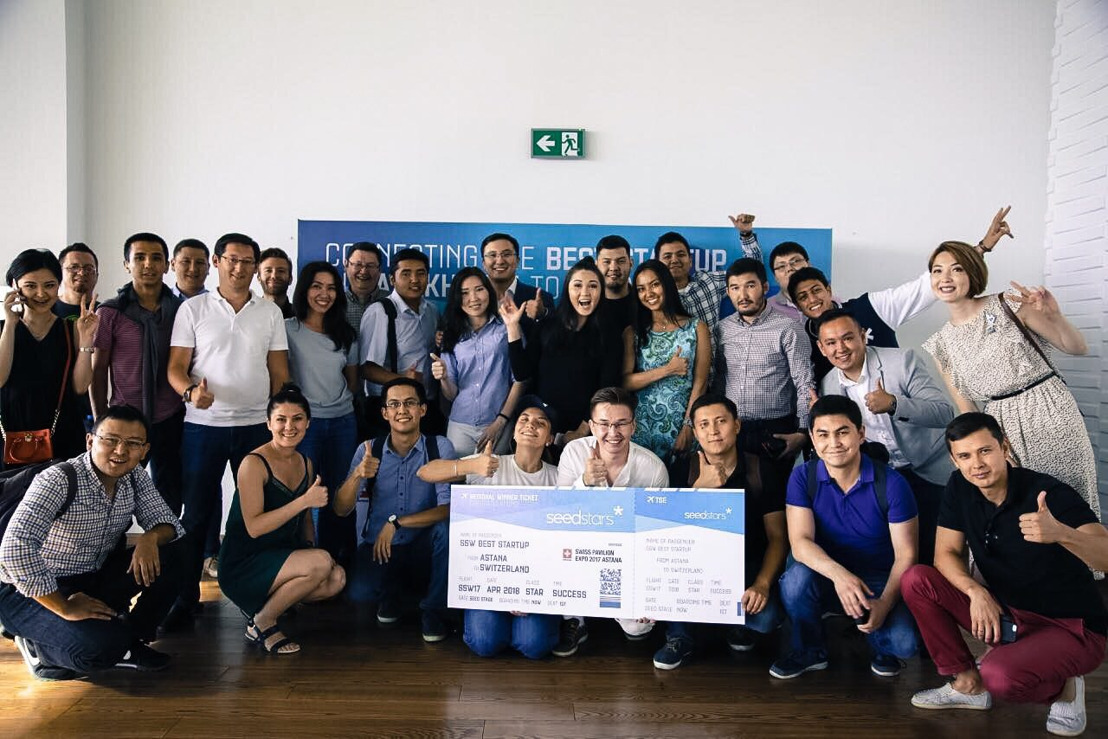 Constant-lab named Kazakh most promising startup at Seedstars Astana
On 8th of July during Seedstars Astana, Constant-lab won the Kazakhstan's round of Seedstars World and will represent the country at the Seedstars Summit in Switzerland to compete for up to USD 1 million in equity investment.
Monday, July 10, 2017 — With the support of main partner Swiss Pavilion Expo 2017 Astana, Seedstars World, the global seed-stage startup competition for emerging markets and fast-growing startup scenes brought its Kazakhstan round to a successful close during Seedstars Astana. The event took place on Saturday, 8th of July, in ForteBank HQ, and 7 selected startups were invited to present their ideas in front of the local jury panel.​
The local Ambassador of Seedstars World, Pavel Koktyshev, Co-founder & CEO at MOST Business Incubator organized the event with Seedstars World together with local venue partner ForteBank.
The local winner, Constant-lab with their Clockster — an advanced cloud-based time and attendance system, based on biometric devices, was selected the most promising startup in Kazakhstan for its adjective solution. As a part of the prize, CEO of Constant-lab Yerzhan Ryskaliyev will be participating at Seedstars Summit, taking place in Switzerland on 9-13 of April 2018, a weeklong training program with the opportunity to meet the other 80 winners, as well as investors and mentors from around the world. Traditionally, the final day of the Summit will be dedicated to pitching in front of an audience of 1000 attendees, with the possibility of winning up to the USD 1 million equity investment.
NiceWidget, the smart voice assistant for online stores that grows their conversion rate by providing voice control feature came second and AdBird, automated service that allows advertisers to promote thru influencers in social networks.
The other startups invited to pitch were:
The 10 startups pitched in front of a prestigious jury:
Anuar Seifullin — Investment manager at VTB Capital I2BF,

Magzhan Madiyev — CEO at Ino Group,

Yerzhan Bagdatov — Head of the national initiative of the Bureau100 at MOST

Daria Golikova — Associate for CEE region at Seedstars World.
The event was kicked off with an inspiring speech of Ambassador Mauro Moruzzi, Head of International Relations at the Swiss State Secretariat for Education, Research and Innovation.
There was held a panel discussion: "The Past, Present and the Future of Fintech in Kazakhstan and in the region". The speakers will include Alexey Sidorov, Founder & CEO at Prodengi, Baur Bektemirov, Chief Economist at AIFC, and Pavel Koktyshev, Co-founder & CEO at MOST Business Incubator.
All selected startup attended an invite-only Bootcamp on July 5th, where they got the feedback session from local and international mentors about their pitches. Mentors included Miras Ibraimov, Creative Chief & Founding Partner at CrossFit Astana, Agahuseyn Ahmadov, Associate for CEE Region at Seedstars World, Pavel Koktyshev, Co-founder & CEO at MOST Business Incubator, Almas Kebekbayev, Founder at TOP.kz.
Continuing on its world tour of startup scenes in emerging markets and fast-growing startup scenes, Seedstars World's next stop is Chisinau to select the best startup in Moldova. Seedstars World is looking for smart startups that solve regional issues and/or develop profitable products for the global market.