EMGUIDANCE SELECTED AS THE WINNER OF SEEDSTARS SOUTH AFRICA 2017
And over R2 BILLION investment capital represented in the room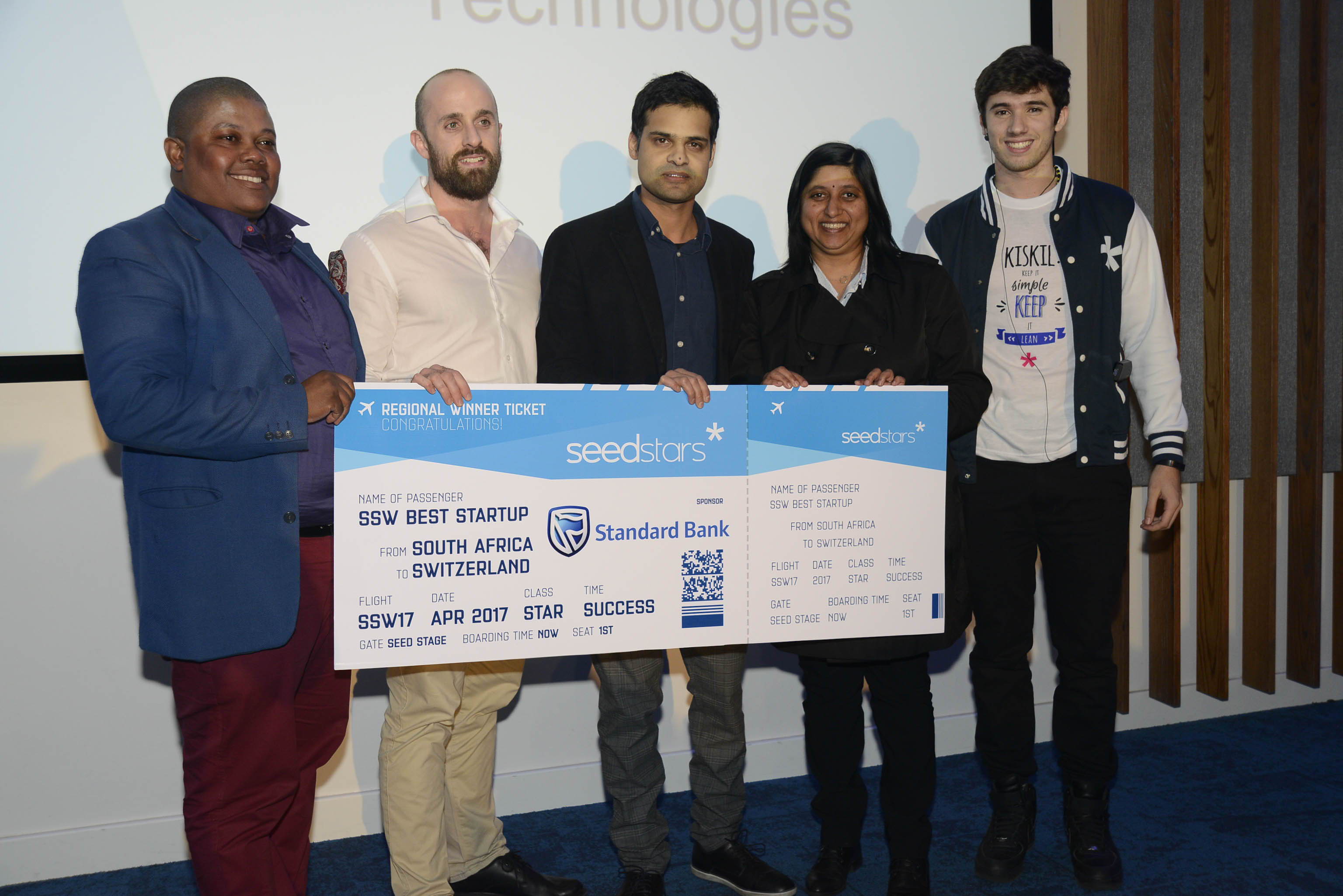 During Seedstars South Africa Finals, EMGuidance won the final round of Seedstars World South Africa and will represent the country at the Seedstars Summit in Switzerland to compete for up to USD 500,000 in equity investment. About 300 people attended the event, and a record R2 Billion investment capital was represented in the room.
Johannesburg, South Africa, June 29th, 207 - Seedstars World, the global seed-stage startup competition for emerging markets and fast-growing startup ecosystems brought its South Africa round to a successful close during Seedstars South Africa Finals, bringing all the winners from the past Satellite events in Johannesburg and Cape Town, as well as 3 wildcards. The event took place this Thursday, June 29th at Standard Bank Auditorium, where 10 selected startups were invited to present their ideas in front of a jury panel. The South African competition is carried out with the support of local lead partner, Standard Bank and local ambassador Entrepreneur Traction. Additional support is provided by regional Merck, as well as local partner Payfast.
"The quality of startups is validation of the abundance of talent in South Africa. 2017 being our third, we are seeing the impact Seedstars World has on the growth of the local ecosystem, as more founders are thinking global." says Vuyisa Qabaka, Partner at Entrepreneur Traction.
The local winner, EMGuidance was selected the 2017 most promising startup in South Africa for its adjective solution: It solves a critical problem for medical professionals by aggregating medical content from regional experts in one app. As part of the prize, EMGuidance will be participating at Seedstars Summit, taking place in Switzerland in April 2018, a weeklong training program with the opportunity to meet the other +75 winners, as well as investors and mentors from around the world. Traditionally, the final day of the Summit will be dedicated to pitching in front of audience of 1000 attendees, with the possibility of winning up to the USD 500,000 equity investment.
Zlto, a digital rewards platform that incentivizes its users for postitive behaviors, came second, and Empty Trips Pty Ltd, Africa's first online smart transport marketplace connecting transporters, brokers and shippers, grabbed the last spot in the top 3. The other startups invited to pitch were GreenFingers Mobile, mbora, CommuScore, Muzi, Invoiceworx, Lenoma Legal, and Home Farm).
"We are really impressed with the quality of finalists as well as the diverse sectors that are represented at this year's Seedstars Final." says Jayshree Naidoo, Head of Incubator at Standard Bank. "It's a great opportunity for us to enable more nexts for startups as well as recognise the richness of the Entrepreneurial ecosystem and how it has evolved in SA. We are committed to changing lives and looking forward to producing another Africa global winner."
The 10 startups pitched in front of a jury that consisted of Quinton Dicks, CEO at SA SME FUND LIMITED, Ivan Epstein, Chairman of Cash Connect and Tricolour at Tricolour Investments, Audrey Mothupi, CEO of SystemicLogic, Lebo Gunguluza, Group Chairman Gem Group, Jayshree Naidoo, Head of Incubator at Standard Bank, and Polo Radebe, CEO at IDF.
Moreover, Seedstars World has partnered with the Merck Accelerator on a regional level, in order to support seed-stage companies with a focus on the fields of healthcare, life science and performance materials. The most promising HealthTech startups will receive office space in the Merck Innovation Center in Kenya or Germany, mentoring and coaching on a regular basis and financial support of up to €50,000. In total, each prize package is worth around €200,000.
"We had a pleasure meeting talented entrepreneurs from different cities and backgrounds in South Africa, and seeing them do such an amazing job representing themselves and their startups on this big South Africa Finals stage." says Fanny Dauchez, Associate for Seedstars World Africa."We look forward to coming back again next year, and working with the South African ecosystem enablers to empower startups and give them tools to take their business to the next level."
Continuing on its world tour of startup scenes in emerging markets and fast-growing startup scenes, Seedstars World's next stop is Kinshasa, Democratic Republic of Congo, to select the most promising startup in DRC. Applications are closed but people can still RSVP to attend the event here: https://seedsta.rs/kinshasa2017