Nefrids Africa selected as the winner of Seedstars Dar Es Salaam 2017
On July 20th during Seedstars Dar Es Salaam, Nefrids Africa won the Tanzania round of Seedstars World and will represent Tanzania at the Seedstars Summit in Switzerland to compete for up to USD 1 million in equity investments and other prizes.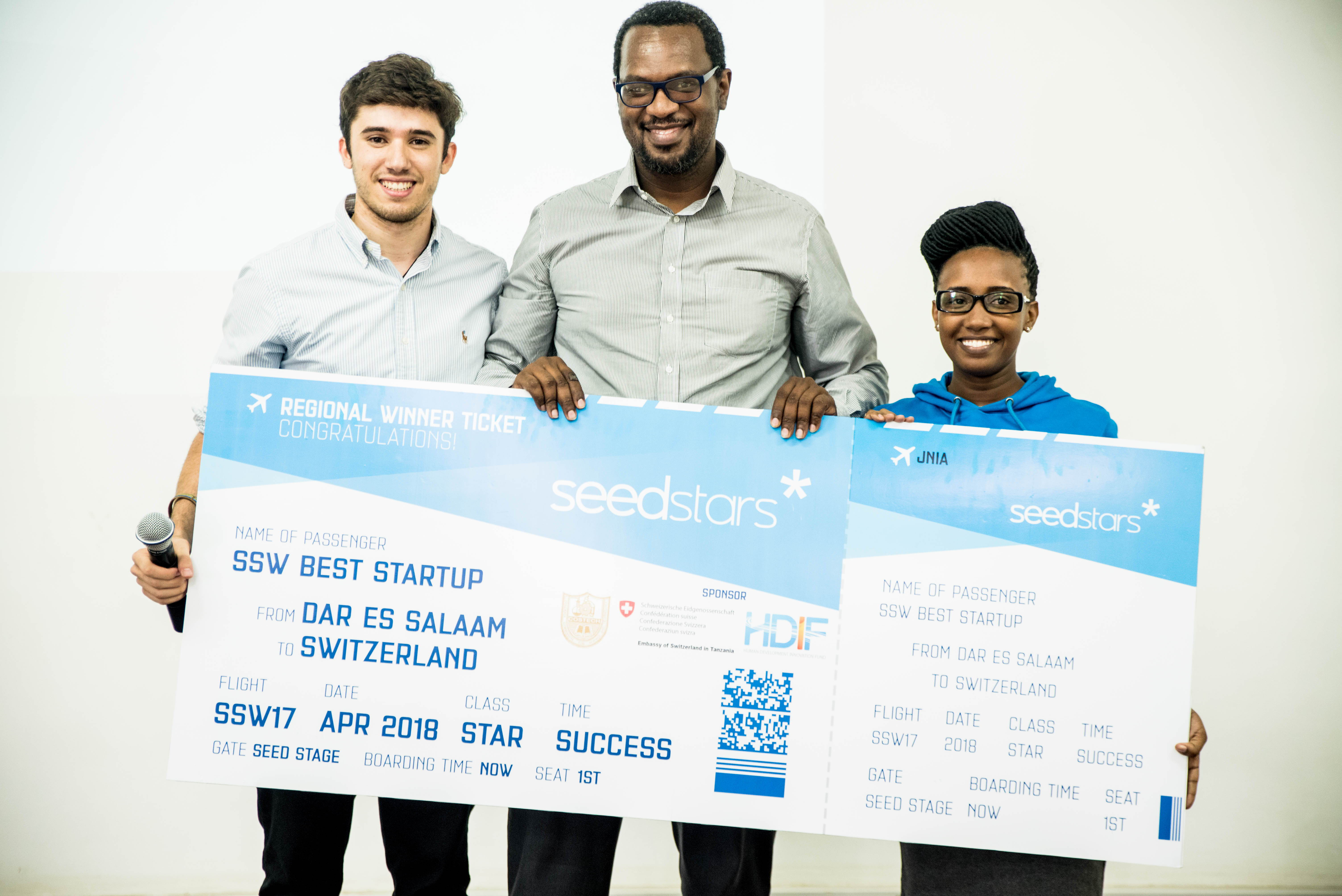 Dar Es Salaam, Tanzania, July 21st 2017 - Seedstars World, the global seed-stage startup competition for emerging markets and fast-growing startup scenes brought its Tanzania round to a successful close during Seedstars Dar Es Salaam. The event took place on Thursday the 20th of July in the Tanzania Commission for Science and Technology, and the 10 selected startups were invited to present their ideas in front of the local jury panel.
The local winner, Nefrids Africa, has developed SimuBima, a Mobile Phone Insurance Solution designed to reach as many users across Tanzania using digital channels. Nefrids will be participating at the Seedstars Summit, taking place in Switzerland in April 2018, a week long boot camp program with the opportunity to meet the other 75 local winners from around the world, as well as international investors and mentors. The final day of the Summit will be dedicated to pitching in front of audience of more than 1'000 attendees to compete for up to 1 million USD in equity investments and other prizes.
SomaApps with its mobile solution to list and match students with thousands of domestic and international scholarships came second, and Worknasi with its web platform for office and meeting room sharing grabbed the last spot in the top 3. The other startups invited to pitch were tanzDevs Company, ScholarDream , HadithiApp, Flow Farm, Emakatt, Be A Lady, and Afropremiere.
The 10 startups pitched in front of a prestigious jury made up of Edwin Bruno, Founder & CEO at SMART CODES, Jones Mrusha, Open Innovation Consultant at JonSoft Group, George Mulamula, CEO at Teknohama, Jacqueline Dismas, Co-Hub Manager at Buni Hub, and Fanny Dauchez, Associate at Seedstars World.
Seedstars organized the event with the support of the Swiss Embassy in Tanzania, COSTECH, the Human Development Innovation Fund (HDIF), our local ambassador Buni Hub, as well as our regional partner Enel Green Power.
In order to provide local entrepreneurs with this opportunity and aiming to deliver the best possible event, Seedstars World is closely working with Buni Hub, who is representing the initiative throughout the year. " It has always been my passion to be part of the growth process of startup companies in my country. Being the Tanzanian Seedstars ambassador for two years now has given me the opportunity to put smiles on startups by showing them the best ways to make their companies investment ready and it's so far working perfectly. Thank you, Seedstars." explains Maryam Mgonja from Buni Hub.
At the same time, Seedstars World is also working very closely with Enel Green Power to source the most innovative business models in the energy sectors and ones that are fostering socio-economic development in rural villages in Africa. Up to 5 best startups in this sector will be invited for an exclusive RES4Africa networking event taking place later this November in Nairobi and compete for an Africa Energy Prize which consists of a financial contribution and a three-month acceleration programme for a total value of up to 50,000 USD.
Continuing on its world tour of startup scenes in emerging markets, Seedstars World's next stop is Kampala to select the most promising tech startup in Uganda. Seedstars World is looking for innovative startups that solve regional issues and/or develop profitable products for the global market.