Seedstars Kinshasa: 4 startups selected to represent the Democratic Republic of Congo at the Africa Regional Summit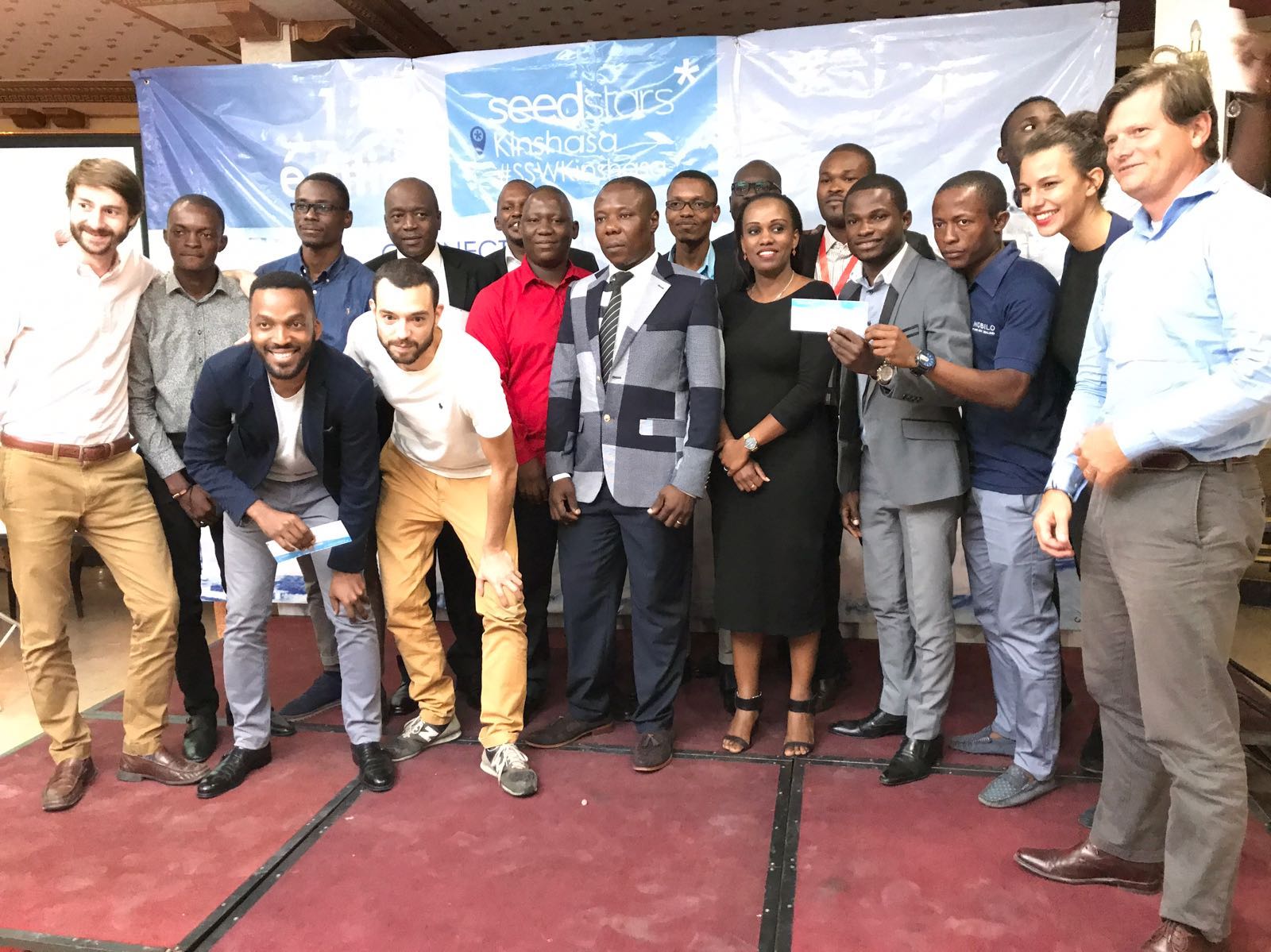 On November 10th during Seedstars Kinshasa, 4 startups were selected to represent the country at the Seedstars Africa Summit in Mozambique to take part in the 3 day conference along with startups from 20 African countries.
Seedstars World, the global seed-stage startup competition for emerging markets and fast-growing startup scenes brought its DR Congo round to a successful close during Seedstars Kinshasa. The event took place last Friday at Béatrice Hotel, and seven selected startups were invited to present their ideas in front of the local jury panel.
4 startups were selected to represent the Democratic Republic of Congo at the regional summit taking place next month in Maputo, Mozambique from 12-14th of December:
Youdee, an online platform specializing in the real estate industry represented by Jean Louis Mbaka,Co-Founder and Chief Technology Officer, and Thomas Strouvens, Executive Director.
Ufumbuzi, a mobile data storage and sharing platform represented by Nathan Ntshimba Bolongo, founder and executive director;
Eteyelo, an online educational platform represented by Archippe Araza, Chief Operating Officer;
Benda Photo, a photo printing and delivery app represented by Albenise Balala, co-founder and COO
The four winners will fly to Maputo, Mozambique where they will participate to an intensive bootcamp and to an Investors day. One of them will be selected by the Seedstars team to represent the DRC at the Seedstars Africa regional final on December 14, 2017 in Maputo.
The other startups invited to pitch were:
McShop, represented by Mike Bondo, CEO. McShop is an online platform that allows local and international brandsto sell their products online to customersin DRC and deliver them to their home.
U-Cash by M. Developer, represented by Anthony Kahindo Mumbere, CEO and founder. Ucash is an innovative platform which aims to facilitate and accelerate mobile money companies' activities in DRC.
SOGELEC, represented by Tony Bintu, CEO and founder. Congo-Light Energy of SOGELEC aims to supply Congolese households a reliable and eco-friendly energy source at an affordable price.
The seven startups pitched in front of a prestigious jury: Ms. Teza Bila, Managing Director within Congo-Invest consulting, Mr Yannick Mbiya, Regional Director within Trust Merchant Bank, Mr Alain Traore, Responsible for Private Sector Development at the IFC, World Bank Group, in the DRC, and Mr Bas Zuidberg, Sector Lead for Business Development Support within ELAN RDC.
The event was made possible thanks to the support provided by our main partner Elan RDC, UK Aid, and our local ambassador Konnect, as well as our regional partners Orange, Enel Green Power, Merck, VC4A and Microsoft 4Afrika.
ELAN RDC is a private sector development program in the DRC, funded by UKaid and managed by Adam Smith International. ELAN RDC tackles the root causes of market failures by working with the private sector in six sectors, predominately with Congolese businesses, to design and disseminate new business models that increase incomes, create jobs and reduce prices for the poor.
Konnect supports tech businesses and helps Congolese startups from different sectors in the development of viable business models. Konnect provides in-depth operational support to entrepreneurs and helps them better understand and penetrate their target markets.
At the same time, Seedstars World is also working very closely with Enel Green Power to source the most innovative business models in the energy sectors and ones that are fostering socio-economic development in rural villages in Africa. Up to 5 best startups in this sector will be invited for an exclusive RES4Africa networking event taking place in Nairobi and compete for an Africa Energy Prize which consists of a financial contribution and a three-month acceleration programme for a total value of up to $50,000.
With this event, the Seedstars Africa tour comes to an end. The next stop will be Maputo, Mozambique, where all the local winners, as well as special startup delegations and local entrepreneurs are invited for a 3 day conference that includes a mentorship day, investor meetings, an ecosystem tour, workshops, and the opportunity to pitch and exchange with an audience from 20 African countries. Tickets are available on our website: https://www.seedstarsworld.com/event/seedstars-africa-2017