SEEDSTARS WORLD ANNOUNCES 10 STARTUPS TO PITCH AT SEEDSTARS WORLD KINSHASA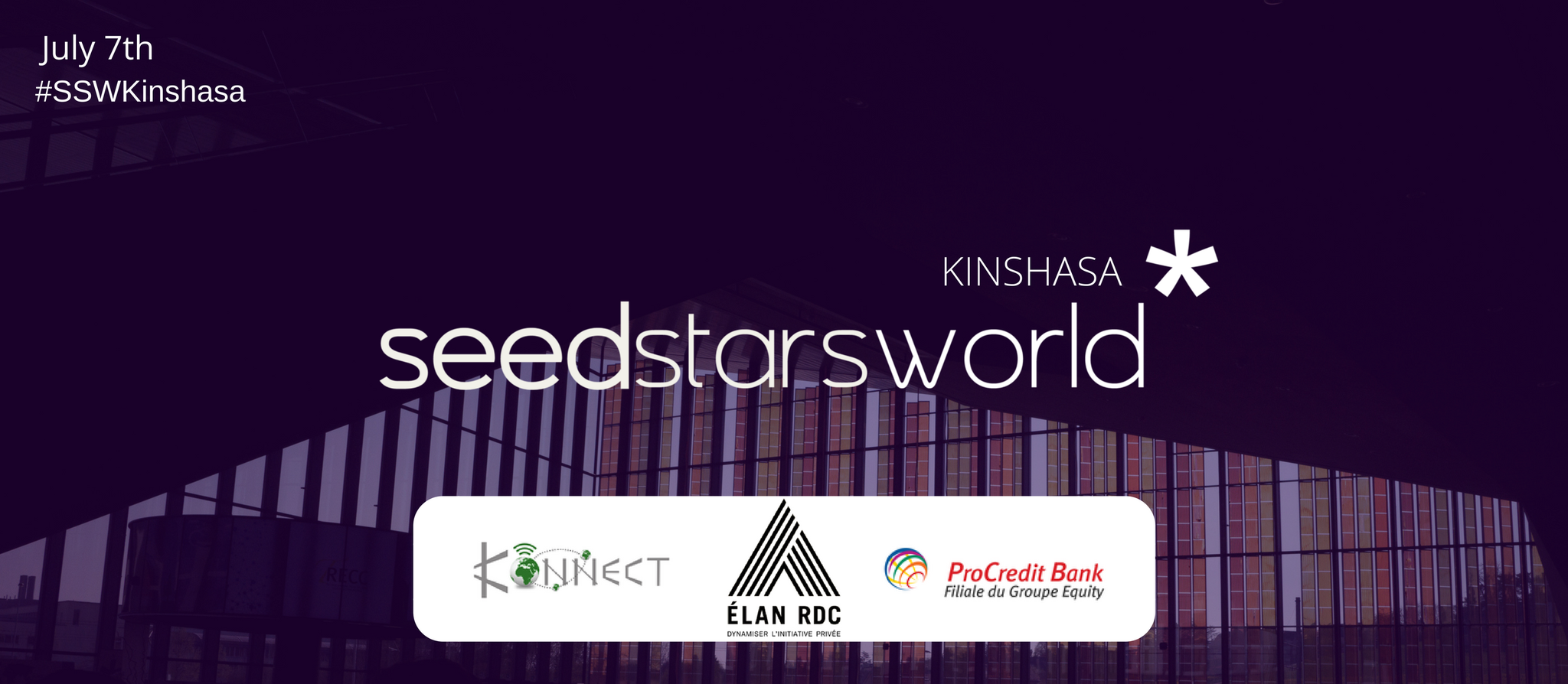 Global early-stage startups competition in partnership with Konnect and Elan RDC has announced the 10 startups that will pitch at its Kinshasa event on Friday, July 7th at the Beatrice Hotel, for a chance to compete at the global stage in Switzerland.
Kinshasa, Democratic Republic of the Congo, July 3rd, 2017 - Seedstars World, the global seed-stage startup competition for emerging markets and fast-growing startup scenes, is coming to Kinshasa for the first time on the 7th of Kinshasa to scout for the best entrepreneurs in technology. The competition is carried out with the support of local lead partner, Elan RDC, and local ambassador Konnect. In addition, the initiative has partnered with Procredit Bank, Orange, and the FEC.
In line with its mission to place the spotlight on entrepreneurs from emerging markets, Seedstars World is travelling to more than 80 countries this year to identify the best seed-stage entrepreneurs and provide them with an opportunity to win up to 500.000 USD in equity investment.
The Seedstars competition comes at the end of a two-day international summit around digital economy and startups in DRC. The 10 startups that are selected to participate at the Seedstars World Kinshasa 2017 pitching event are:
BendaPhoto is a mobile and web app that allows you to print remotely photos that are in your smartphone, before delivery.

Our platform Eteyo system improves school management, facilitates school monitoring and monitoring of the education system in the DRC

mcshop it's an online fashion destination B 2 C based in DR Congo ,which allow businesses in that industry to sell online.

Ucash is a new mobile money solution that aims to make funds more available and accessible.

a mobile and USSD app that connects movers with traders to facilitate the transaction.

RestoXpress
RestoXpress enables Kinois to place food delivery orders from the best restaurants of Kinshasa and to be delivered by an eco friendly fleet.
SOGELEC
SOGELEC's Congo-Light Energy aims to provide reliable, affordable energy without pollution
ufumbuzi
Ufumbuzi is a platform that gives access to data from a terminal without the Internet.
Whaton
Whaton is a Social Network for Promoting and Finding activities/events, Selling tickets, and Voting.
Youdee
Youdee aims to help people make intelligent decisions about their homes in a secure environment by giving them the most accurate and complete information.
In addition, Seedstars World has partnered with the Merck Accelerator on a regional level, in order to support seed-stage companies with a focus on the fields of healthcare, life science and performance materials. The most promising HealthTech startups will receive office space in the Merck Innovation Center in Kenya or Germany, mentoring and coaching on a regular basis and financial support of up to €50,000. In total, each prize package is worth around €200,000.
"We are very happy to bring the competition to Kinshasa for the first time," says Anis Kallel, Associate for Africa at Seedstars World. "This year we added more countries to allow entrepreneurs to showcase their talent and gain more experience and visibility on a gobal level. We are confident that working with different ecosystem enablers in DRC will allow more successful startups to emerge and we cannot wait to meet them in Kinshasa."
The event will take place at Standard Bank Incubator with the startups to pitch to a panel of judges. The top startups will win the title of most promising seed-stage startup of Seedstars World DRC 2017.