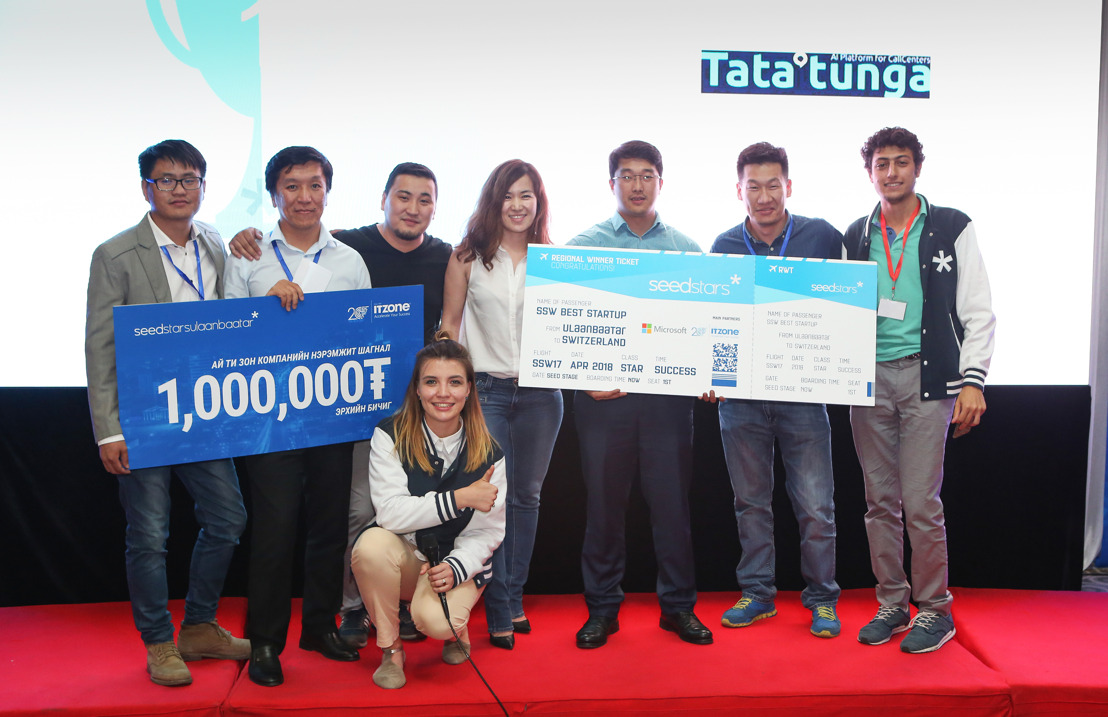 TataTunga named Mongolian most promising startup at Seedstars Ulaanbaatar
On 23rd of June during Seedstars Ulaanbaatar, TataTunga won the Mongolia's round of Seedstars World and will represent the country at the Seedstars Summit in Switzerland to compete for up to USD 1 million in equity investment.
Sunday, June 25, 2017 — Seedstars World, the global seed-stage startup competition for emerging markets and fast-growing startup scenes brought its Mongolia round to a successful close during Seedstars Ulaanbaatar. The event took place on Friday, 23rd of June, in Chinggis Khaan Hotel, and 10 selected startups were invited to present their ideas in front of the local jury panel.
The local winner, TataTunga, AI-based customer service platform, was selected the most promising startup in Mongolia for its adjective solution. As a part of the prize, CEO of TataTunga Javkhlan Bayarmagnai will be participating at Seedstars Summit, taking place in Switzerland in April 2018, a weeklong training program with the opportunity to meet the other 70 winners, as well as investors and mentors from around the world. Traditionally, the final day of the Summit will be dedicated to pitching in front of audience of 1000 attendees, with the possibility of winning up to the USD 1 million equity investment. ​
Ocurus with its virtual tour solution which helps to build and share 360-degree virtual tours came second and Mogulbox — box which helps SMEs to get total IT solution and service with unbelievably low cost, grabbed the last spot in the top 3. The other startups invited to pitch were:
Beelog Technologies, a smart planting pot which reduces the indoor air pollution.
Hola, allows people to book translators to write professional business emails via a mobile application.
Mamaapp, Mongolian online community application for modern moms.
Manai Bair, social networking platform for homes. Home residents can communicate with various public-private entities and between themselves.
Medilize, marketplace for the patients to promptly find a medical service.
Mixsor, smart home automation IoTs. ​
Uyach app, news and marketplace app for horse lovers.
The 10 startups pitched in front of a prestigious jury:​
Seedstars Ulaanbaatar also featured a panel discussion 'From Minegolia to Mindgolia: How Mongolian Tech Entrepreneurs can solve global problems'. The speakers included Gankhuyag Adilbish — Board Member at Unitel Group, Chairman at Premium Group, Chairman at MCS Coca-Cola, Board Member at MMC, Boldbaatar Ochirsuren — Group CFO at AND Global Pte.ltd, Co-Founder of Lendmn, mentor at Startup Mongolia, and Ider-Od Bat-Erdene — VP at Startup Mongolia.
The local Ambassador of Seedstars World, Naranbat Nasanbat, organized the event with Seedstars World's local partners ITZone. Further support was provided by Gemnet, Metro Development Group, Development Bank of Mongolia and local supporters Startup Mongolia, National Information Technology Park and SDC in Mongolia. and media partners Ikon.mn, Ubinfo.mn, Business Radio 98.9, Bloomberg TV Mongolia, Unread. The event attracted interest from over 40 startups, and over 250 attendees.
Continuing on its world tour of startup scenes in emerging markets and fast-growing startup scenes, Seedstars World's next stop is Astana to select the best startup in Kasakhstan. Seedstars World is looking for smart startups that solve regional issues and/or develop profitable products for the global market.